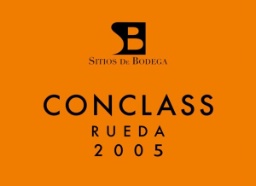 This section is about sharing my personal findings about spanish wines that are good value, high QPR, worth it to give them a try and are under $20 (most of them).
Here is the place you can discover terrific spanish wines without braking your wallet.
Let me introduce you the 2005 Con Class from Rueda (appellation or wine region), Spain. Blend of 80% verdejo, 10% viura and 10% sauvignon blanc. Light golden color, a lot of verdejo character but there is some Sauv Blanc as well. Fruity nose. Notes of melon, green apple, pear and citrus. Acidity is noticeable but moderate. Pleasant to drink. Nothing beats a glass or two of this fresh and crispy white. It´s the type of white wine I could have been drinking all night long. Nice picnic wine. I love it, I hope you enjoy it as much as I did, I've finished my first 2 cases already.
With or without food, this is refreshing-value-packed white!
Punctuation: 86
Average price as of today: $10
I´d love to hear from you, if you had the chance to drink this wine let me know in the comments.
Salud!
Don't want to miss a single tip? Susbscribe to my RSS feed!
Posted: August 26th, 2007 under Wine.
Comments: none