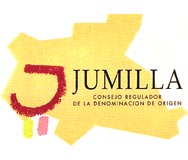 This is the first of a series of episodes I am going to talk about the wine regions of spain. Also I created for your reference and futures tastings a Jumilla Vintage Chart that you can download for free. I hope you enjoy it. Download your free Jumilla Vintage Chart
Today I am going ot talk a little bit about Jumilla area. The Jumilla D.O Denominacion de Origen is located in the South East of Spain near the Mediterrenean Coast.
Talking about Jumilla appellation is talking about grape varietry "Monastrell" and iteration of the french "Mourvèdre" but it deserves far better. Is a variety of high resistence to drought, what makes the prices very affordable and the value high. For bargain wine hunters is difficult to beat the Jumilla wines.
So what distinguishes DO Jumilla wines from other wines from Spain is that they are elaborated from the "Monastrell" grape.
Red wines, with their dominant presence of the Monastrell grape, have a strong colour, normally intense purple red, very expressive edgings and a fruity aroma (black and ripe fruit, plums…). They have live tannins in your mouth and big body. Red wine will pair fantastically with meat like barbequed ribs, grilled pork, beef and french fries.
Also is amazing that wine advocate Robert Parker rated the wines of Jumillaand this is the verdict: "After tasting around 700 Spanish wines, the prestigious North American critic Robert Parker affirmed the big international boom of Spanish wines, ratifying the relevance and extraordinary quality of the Designation of Origin Jumilla wines. At the tasting of these Spanish wines, which Parker considered one of the most exciting of his 26 years as a professional"

As a sample and tasting reference for all of you between the huge selection of Jumilla wines those are my favourites after tasting them, also comes with Robert Parker ratings:
Bodegas Juan Gil, Juan Gil , 2002 vintage: 91 points.
Bodegas Juan Gil, Juan Gil, 2003 vintage: 91 points.
Bodegas El Nido, Clio, 2002 vintage: 93 points.
Bodegas El Nido, El Nido, 2002 vintage: 96 points.
Bodegas Finca Luzón, Altos de Luzón trademark, 2003 vintage: 89 points.
Bodegas Finca Luzón, Castillo Luzón trademark, 2002 vintage: 87 points.
The best of all is that most of those fantastic wines like "Juan Gil" and "Finca Luzon" are (still) under $15 dollars a bottle. Never better said cheap is good!
Cheers
Samuel
Posted: August 11th, 2007 under Wine.
Comments: 2