Chicken Breast with Beer Sauce
Pollo con Cerveza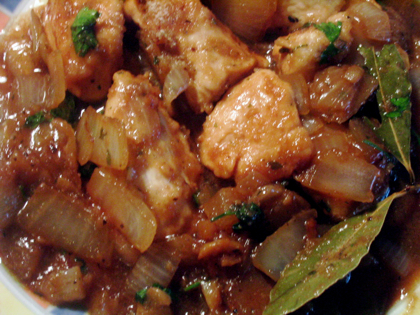 This is other of my favorite recipes. My Mother taught me how to make it when is was in college, this way she tried to make sure I was eating well and healthy…and it worked, suddently I stop eating pizza and burgers every day. 😉
Try it you will how easy to do and fast is!.
This dish is also very popular in other mediterrenean cultures like Greece.
Here it is:
Ingredients: for 4 servings
3 Chicken Breast
1 Big Spanish Onion
3 Garlic Cloves
1 Cup of Beer ( I put like almost the whole bottle of beer)
2 Tablespoons of Bread Crumbs
1/2 Chicken Bouillon (Cut in half a chicken boullion, the "powder cube" one)
4 Tablespoons of Olive Oil
2 Bay leaves
2 Tablespoon of fresh parsley
Salt and pepper to taste
Procedure:
Chopped onion and garlic cloves. Heat olive oil in a frying pan with low-medium heat. Cut chicken breast in cubes and sautee for 3 minutes.
Then add onion and garlic. Sautee all together for 4 minutes or until onion get brown and soft. Now add the 1/2 chicken broth.
Finally add the beer and stir all together for 20 minutes. Five minutes before the time add parley and bread crumbs.
Tip: If you want you can use chicken legs and wings instead of breast. Also you can try it with pork tenderloin. Don´t forget to put bread crumbs, that´s the key to make the sauce thicker. Also if you don't have this "chicken powder broth" you can add 1/2 cup chicken broth.
Don´t want to miss a single recipe? Subscribe to my RSS Feed!
Posted: August 2nd, 2007 under Recipes.
Comments: none