Gazpacho
Authentic Gazpacho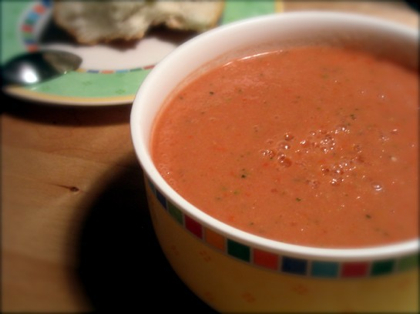 This is an awsome recipe, simple, tasty and very easy to make.
Serve it cold, is your perfect choice for the summer.
Ingredients:
1,25 Kg (2,75 Pounds) Ripe Tomatoes
1/2 Cucumber
1/2 Small Green Pepper
1/2 Small Onion
2 Garlic Cloves
Olive oil ( 4 table spoons)
Vinegar ( 2 tea spoons)
Salt to the taste
Half Slice of bread.
How to:
Chopped the tomatos, cucumber, green pepper, onion and garlic. Then put it all together in a food processor. Finally add the olive oil, vinegar, bread, salt and mix it, pure it with the food processor.
Tip: why bread?? Because the bread makes the gazpacho thicker, more bread you add more thicker gets your gazpacho.
Also you can do the opposite, if is to thicker you can a little bit of water to make it thinner.
Aahh, and don´t forget to put it in your refrigerator. Serve it cold.
Enjoy!
Samuel
Posted: July 13th, 2007 under Recipes.
Comments: 1
Comments