Melon with Jamon
Melon con "Jamon" o Prosciutto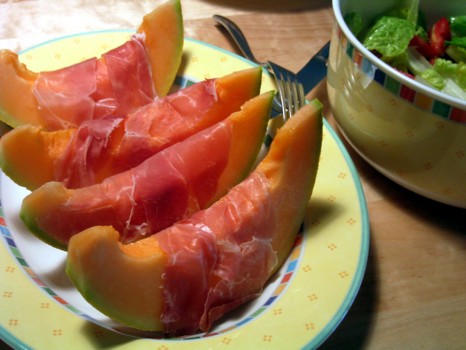 A summer classic, the refreshing Melon con Jamon.
It's combination of the sweetness and cold of the Melon and the salty touch of the jamon (or prosciutto if is your case) makes this dish one of my favorites picks for the summer, and today I had one and here is my proof.
Extremelly easy to do and fast .
Normally I use Jamon Serrano from Spain, but in New York is kind of hard to find the Jamon from spain, so now as a sustitute I am using proscciutto, which is the italian version of the Jamón, they are not exactly the same but for me woks fine with prosciutto.
Tip: How to pic a Melon?
first pick a cantaloupe or a galia variety.
Then the color has to be almost everything yellow, the more yellow more sugar has on it. And the oposite would be if the melon has more green color than yellow that means the melon is not ripe yet, is not ready to eat, is not sweet enough.
Also smell it, yes, don´t be afraid, has to smell goooood, very sweet and fruity!!.
Finally press the tip and head of the melon, they have to be a little soft when you press them.
If you follow this steps the chances to pic a nice and sweet melon are much higher than if you pic the melon randomly. So good luck to you for the next time you pick a melon.
Extra Tip: Keep the melon in the refrigerator but REMEMBER to take it out 15 minutes before you are going to eat it. That´s the trick, this way the melon is cool but not cold so the sweetnest is not covered by the coldness.
Ingredients:
1 Cantaloupe
6 Slices of Jamon or Prosciutto
How to:
Cut the melon in half, remove the seeds, then cut them in slices. Finally put the Jamon nicely on top of the melon.
Enjoy!
Samuel
Posted: July 2nd, 2007 under Recipes.
Comments: none