Sauteed Zucchini, Cherry Tomatoes and Olives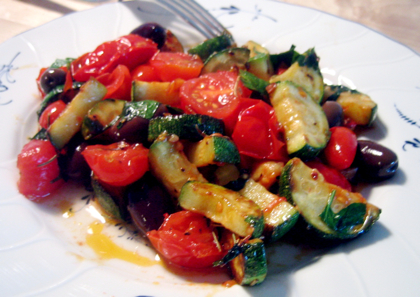 This lovely and colorfull recipe you can serve it as an appetizer but also is perfect as a side dish. If you love zucchini as much as I do, you should try this formula. I really enjoy it, so yummy and so simple to do. Really worth it play around with this recipe. I suggest you to give a try.
If you like this recipe also you should take a look also to my Fried Eggplant with Potatoes and Peppers.
Ingredients for 4 Servings:
2 tablespoons of Olive Oil
1 pound ( 0,5 Kg) Zucchini
2 Garlic Cloves sliced
1 teaspoon of Rosemary
1,5 cup Cherry Tomatoes
10 Olives
1 tablespoon Balsamic Vinegar
1/4 cup fresh Parsley thinly sliced
Salt and pepper to taste
Procedure:
First trim and cut the zucchini into 1/2 inch thick slices. Chopped in slices the garlic cloves. Cut the cherry tomatoes in half.
Heat olive oil in a skillet over medium/high heat. Then add the zucchini, garlic and rosemary. Add salt and pepper to taste. Saute for 5 minutes or until zucchini is soft. After that add the cherry tomatoes and olives. SAaute all together for 3 minutes or until tomatoes begin to get soft.
Finally add parsley and vinegar and mix all together and saute for 2 more minutes.
….And ready to go!
Enjoy, 😉
Samuel
Don't want to miss any recipe? Subscribe to my RSS!
Posted: August 14th, 2007 under Recipes.
Comments: none