Tomato and Cucumber Salad
Ensalada de Tomate y Pepino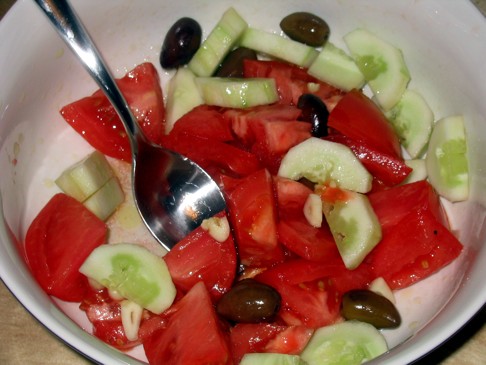 Ingredients:
1 Big "Ugly Tomato" or a Nice Ripe Tomato
1/2 Cucumber
5 Olives
1 Garlic Clove
Olive oil
Salt to the taste
How to:
Rinse and clean the tomatoes with water. Then cut them in pieces.
Also do the same with the cucumber, then cut the cucumber in slices (a little bit thick) . Then chopped the garlic in slices.
Mix all together in a bowl. Finally ad olive oil, I like to put a LOT of it, like a good spanish guy I am. I love the tomate and cucumber soak in olive oil!
Tip: At the bottom of the bowl the olive oil mixes with the garlic so the olive oil takes the flavor of the garlic. I love to dip a piece of bread in that mixture.
(Regarding tomatoes, in USA it has been very hard for me to find nice and ripe tomatoes like the ones we have in Spain, but I think I found them. I love the variety "Ugly Tomatoes" or "Heirloom Tomato" is the closer I´ve found to the flavor of the tomatoes from Spain.
At the end ad the olives.
It is fast, simple, is delicious, colorful and the garlic gives a very special touch to the salad.
Enjoy
Samuel
Posted: June 29th, 2007 under Recipes.
Comments: none