Veal Scallopini with Lemon
Escalopines de Ternera con Limón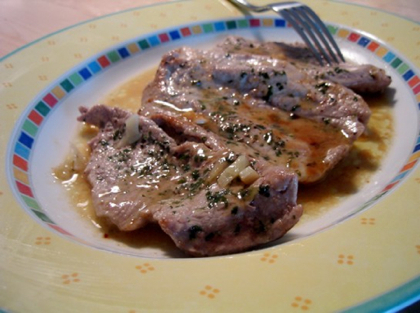 The combination of the lemon and the acidity of the cappers gives to the veal a very special flavor. It´s cheap and fast, and taste like a 25$ dish in a restaurant!!.
Enjoy!
-Samuel
Ingredients for 4 Serves:
4 Pieces of Veal, pounded very thin to 1/4-inch thickness
Juice of 1/2 lemon
2 Tablespoons of butter
2 Tablespoons of Cappers
2 Garlic Cloves Chopped
Parsley
Salt
Pepper
3 Tablespoons Olive Oil from Spain
Preparation:
Nicely season the veal with salt, pepper and parsley. In a large frying pan over medium-high heat, warm the olive oil. Then add the veal and garlic to the pan. Sauté until browned. Flip, and sauté until cooked. Remove the veal and garlic from the pan, and keep it warm in a dish. Add the butter to the pan and cook until it reduces slightly. Stir the lemon juice and butter and cappers all together for 2 minutes. Spoon the sauce over the veal. Serve it with grilled vegetables or french fries.
Posted: July 15th, 2007 under Recipes.
Comments: 1
Comments