Fresh Bufala Mozzarella Salad with Cucumber and Oregano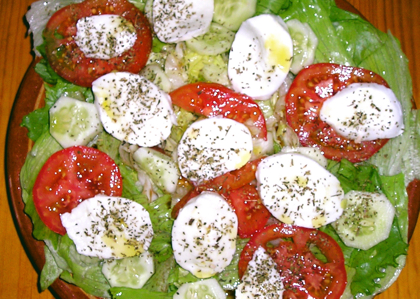 Light, fresh and organic, this salad with mozzarella will persuade all cheese and salad lovers.
With oregano as spice gives an enjoyable twist to this classic salad traditionally done with basil. Enjoy the summer!
Ingredients:
Bufala Mozzarella
1 Romaine Lettuce
1 Tomato
1/2 Cucumber
Oregano
Olive Oil from Spain
Salt to taste
Procedure:
Clean the lettuce and tomatoe. Chopped tomatoe and cucumber in 0,5 inch-thick slices. Cut the lettuce. Finally cut mozzarella in 0,5-inch-thick slices.
Serve it in a dish.
Dress the salad with olive oil and sprinkle a little bit tomatoes and mozzarella with oregano. Put salt to taste.
Don´t want to miss a single recipe? Subscribe to my RSS Feed!

Posted: August 7th, 2007 under Recipes.
Comments: none